Th. & Povl Pedersen
This combination is Thomas & Povl Pedersen – son Thomas and father Povl.
Read this text in Danish here – english below:
Povl Pedersen is 85 years old and has raced pigeons since 1955 where he had the pigeons on the roof above the smithy of the parents. In 1970 he built a loft in the garden next to the smithy – so he has always raced from his childhood home in V. Skerninge on the island of Funen in Denmark. In 2000 he built a new loft in belgian style.
In all years pigeons have been in the family so the son Thomas grew up with pigeons – and he became a member in 1983 when he was 14 years old.
Povl has always been a succesful fancier and his pigeons have always been very calm on the loft – something which other fanciers know. Povl has always been a really good fancier – selecting and finding the right breeding pigeons but also selecting and motivating the racing pigeons prior to the different races.
The biggest passion for Povl has always been the one-day longdistance races. Especially the tough races – and many championships have been won because of the toughness, the will and the vitality in the family of pigeons.
Looking at the map you can also see that with all races from south the pigeons have to pas the water to fly home.
In the loft in V. Skerninge they have only had a few breeding pigeons but they have always had a fantastic collaboration and friendship with Svend Kaergaard in the club of 166 Bogense.
All breeding pigeons have been purchased together with Svend – who also has had very good results with these pigeons.
In 2015 Thomas built a pigeon loft of his own on his own property and some of the breeding pigeons went there. Always the best racing pigeons have been selected for the breeding loft after a good career.
Thomas also started racing with his own family – in the name of "Team Bang" – but continued also racing with his father in the name of "Th. & Povl Pedersen". Now Team Bang is racing very well – winning 1. Championship Longdistance Unnominated and 2. Champion Longdistance Nominated in 2020 – primary with the same pigeons as Th. & Povl Pedersen.
In the combination Th. & Povl Pedersen, Povl has been the loftmanager and Thomas has helped with some administration. In the recent years also Lis, the wife of Povl, has been a great help – unfortunately Povl got problems with the health.
Therefore Povl and Thomas decided to sell the whole racingteam from the combination Th. & Povl Pedersen – all old pigeons and the rest of the youngsters from 2020 – the same family that won the Longdistance Championship both nominated and unnominated plus the great championship 6 years in a row from 2013-2018!
The family hope that other fanciers can continue the legacy of Povl Pedersens life with pigeons from the loft in V. Skerninge!!
It is with pride that Povl is ending his career with pigeons on the very top – and Thomas and him are hoping that their family of pigeons can continue to win prizes in many years to come.
M&C Hansen is extremely proud to be able to present this fantastic group of pigeons to our friends all over the world.
Below you will find a fantastic list of results achieved with these pigeons – and a deeper presentation of these pigeons.
Good luck!
The TOUGH family:
The baseline of this foundation family comes from an import from Fred Bloor & Son of Charlton Mackrell, UK.
This strain was built by pigeons from Pol Bostyn and Stichelbaut – and in combination with Vermote and Deweerdt pigeons they gave a fantastic strengh and toughness. The foundation hen on the loft became 000-01-0033 – and the 3 basicpigeons today are still:
THE TOUGH SEAPLANE was:
2 x 1st prize winner
Acepigeon both in 2012, 2013 and 2015
Winner of:
No. 1 against 274 Soltau – 2015
No. 1 against 729 Tonder – 2011
No. 2 against 373 Stendal – 2014
No. 3 against 151 Limburg – 2013
No. 5 against 317 Emmen – 2013
No. 7 against 434 Minden – 2012
No. 11 against 149 Gottingen – 2013
No. 11 against 267 Hannover – 2014
No. 12 against 211 Antwerp – 2013
No. 13 against 223 Dresden – 2012
No. 13 against 246 Soltau – 2013
No. 15 against 363 Hannover – 2012
No. 16 against 224 Antwerp – 2014
No. 18 against 232 Hannover – 2015
No. 19 against 188 Giesen – 2015
No. 19 against 112 Würzburg – 2015
No. 20 against 266 Gottingen
No. 23 against 183 Trier – 2012
No. 23 against 850 Rendsburg – 2012
No. 24 against 891 Henstedt – 2011
No. 29 against 171 Giesen – 2013
No. 30 against 424 Husum – 2010
Father i.e. to:
013-14-1348 THE TOUGH PEARL:
3., 5. and 6. Acepigeon 2015-2016
No. 2 Giesen,
No. 2 Würzburg
No. 2 Münster
No. 2 Stendal
No. 3 Minden
No. 7 Gotha
No. 9 Celle
013-14-1349 THE TOUGH STAR:
1. Acepigeon 2016, 2. Acepigeon 2016 and 7. Acepigeon 2015
No. 1 Provincial Dresden
No. 3 Stendal
No. 5 Gotha
No. 8 Minden
No. 9 Soltau
013-14-1375 THE TOUGH BEAUTY
Acepigeon both as yearling and 2 years old
No. 6 Celle
No. 7 Osnabrück
No. 7 Soltau
No. 8 Magdeburg
013-17-0462 THE TOUGH QUEEN:
1. Acepigeon 2020 Longdistance – 4. Provincial
Acepigeon also in 2019
No. 3 Giessen
No. 5 Karlsruhe
No. 7 Minden
No. 8 Giessen
Grandfather and greatgrandfather to several 1. Prize winners and acepigeons!
The foundation hen 000-01-0033 was a granddaughter of these 4 pigeons:
The DE RAUW SABLON family:
Another very important line at the loft is the line from the De Rauw Sablon strain.
In 2010 they purchased 000-09-0021 BLACK JACK – a nephew of the famous EAGLE EYE 1. National Acepigeon LCB 2009 – also a hen THE DIAMOND was purchased with DE SLIMMEN origins in – the grandfather of EAGLE EYE.
From the same lines they purchased 3 hens:
033-10-0310 MISS SABLON – grandmother to 013-12-1323 WONDER GIRL – the best hen they ever raced – best acepigeon in both 2015, 2016 and 2017 and 5 x 1. prize winner!
033-10-0306 – grandmother to 1. Provincial Gottingen
033-10-1684 – the mother to another great star on the loft – THE RAKET – a lot of topprizes and acepigeon in both 2017-2018-2019.
In 2011 they purchased a direct Vandenheede pigeon BE-11-4244390 BLUE VANDENHEEDE – a super breeding pigeon – and father to one of the superstars SIMPLY THE BEST – double 1st prize winner and acepigeon 2015-2019.
Last but not least they bought RAALE FRIDA from a M&C Hansen auction – and she became the maybe best breeding pigeon they ever had – and she was also the mother to WONDER GIRL.
Here are some of the pigeons mentioned above: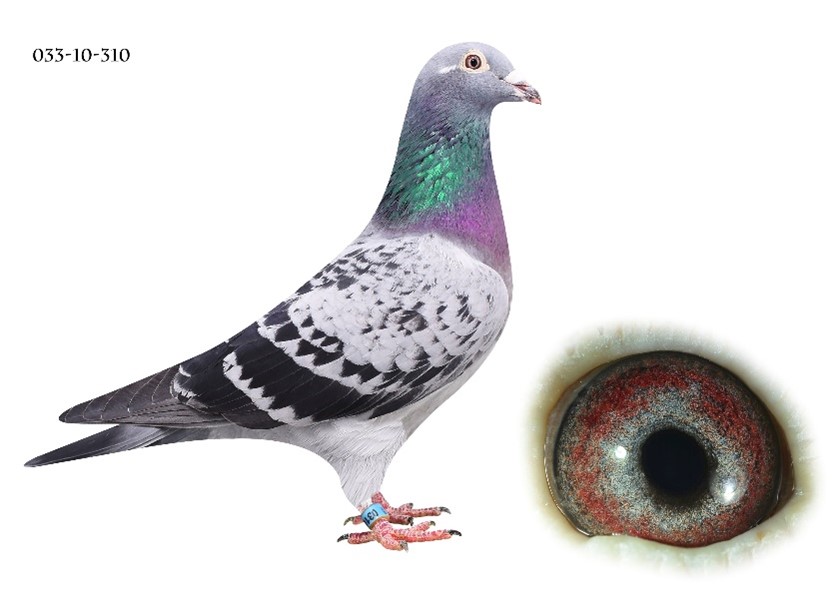 The 2 ace-hens:
The last importan pigeons to mention are the 2 acehens – ACE 1323 and ACE 1309!
ACE 1323 – she is bred from a pigeon from Louis Stabel also purchased from M&C Hansen auction – from the basic lines DE NICO, DAPHNE, DE ROYE, KILOMETERVRETER and KOPVLIEGSTER.
She has been a super pigeon:
6. Acepigeon 2017
3. Acepigeon Nominated 2017
No. 1 Provincial Giessen 2019
No. 1 Provincial Gotha 2017
No. 1 Kiel 2016
No. 2 Minden
No. 2 Antwerp
No. 4 Hannover
No. 5 Hannover
No. 7 Lüneburg
No. 8 Minden
No. 9 Magdeburg
No. 11 Osnabrück
No. 15 Dresden
No. 15 Minden etc.
ACE 1309 – bred from a son of brother to EAGLE EYE 1. National Longdistance from Marcel Sangers – and the mother is from Lambrechts-Lismont, Belgium.
She has been a super pigeon:
1. Acepigeon 2017
6. Acepigeon Longdistance 2017
9. Acepigeon 2018
10. Acepigeon Longdistance 2018
No. 1 Dresden 2017
No. 2 Hannover 2017
No. 3 Dresden 2017
No. 4 Würzburg 2016
No. 4 Soltau 2016
No. 6 Minden 2019
No. 7 Hannover 2017
No. 11 Paderborn 2018
No. 11 Osnabrück 2017
No. 15 Antwerp 2018
No. 16 Antwerp 2017
No. 18 Celle 2019 etc.
Championships 2010-2020:
National Championship:
No.2 DM-Nominated 2018
No.2 DM-Nominated 2015
No.2 DM-Unnominated 2015
No.3 DM-Unnominated 2016
No.4 DM-Nominated 2017
No.4 DM-Super 2010
No.5 DM-Nominated 2016
No.6 DM-Lang 2020
No.8 DM-Unnominated 2017
No.11 DM-Super 2013
No.12 DM-Lang 2019
No.15 DM-Unnominated 2018
No.20 DM-Nominated 2014
Longdistance Championship:
No.1 Longdistance, Nominated 2020
No.1 Longdistance, Unnominated 2018
No.1 Longdistance, Nominated 2018
No.1 Longdistance, Unnominated 2017
No.1 Longdistance, Nominated 2017
No.1 Longdistance, Unnominated 2016
No.1 Longdistance, Nominated 2016
No.1 Longdistance, Unnominated 2015
No.1 Longdistance, Nominated 2015
No.1 Longdistance, Unnominated 2014
No.1 Longdistance, Nominated 2014
No.1 Longdistance, Unnominated 2013
No.1 Longdistance, Nominated 2013
No.1 Longdistance, Unnominated 2010
No.2 Longdistance, Unnominated 2020
No.3 Longdistance, Unnominated 2012
No.5 Longdistance, Nominated 2012
No.4 Longdistance, Unnominated 2019
No.4 Longdistance, Nominated 2019
No.6 Longdistance, Unnominated 2011
No.7 Longdistance, Nominated 2010
Middledistance Championship:
No.1 Middledistance, Unnominated 2017
No.1 Middledistance, Nominated 2015
No.1 Middledistance, Unnominated 2013
No.2 Middledistance, Nominated 2018
No.2 Middledistance, Unnominated 2016
No.2 Middledistance, Unnominated 2015
No.2 Middledistance, Unnominated 2012
No.3 Middledistance, Unnominated 2019
No.3 Middledistance, Nominated 2017
No.3 Middledistance, Unnominated 2014
No.4 Middledistance, Unnominated 2020
No.4 Middledistance, Nominated 2020
No.4 Middledistance, Nominated 2016
No.4 Middledistance, Nominated 2014
No.5 Middledistance, Unnominated 2018
No.5 Middledistance, Unnominated 2011
No.5 Middledistance, Nominated 2010
No.6 Middledistance, Nominated 2019
No.6 Middledistance, Nominated 2011
Yearlings Championship:
No.1 Yearlings 2015
No.1 Yearlings 2012
No.2 Yearlings 2019
No.2 Yearlings 2016
No.2 Yearlings 2013
No.2 Yearlings 2010
No.4 Yearlings 2017
No.4 Yearlings 2014
No.5 Yearlings 2020
No.5 Yearlings 2018
No.7 Yearlings 2011
The Great Championship: (Middle and longdistance)
No.1 The Great Championship 2018
No.1 The Great Championship 2017
No.1 The Great Championship 2016
No.1 The Great Championship 2015
No.1 The Great Championship 2014
No.1 The Great Championship 2013
No.1 The Great Championship 2012
No.2 The Great Championship 2020
No.2 The Great Championship 2019
No.2 The Great Championship 2010
No.4 The Great Championship 2011
Championship of the Island Fyn: (Short, middle and longdistance)
No.1 Championship of the Island Fyn 2017
No.1 Championship of the Island Fyn 2016
No.1 Championship of the Island Fyn 2015
No.2 Championship of the Island Fyn 2019
No.2 Championship of the Island Fyn 2014
No.2 Championship of the Island Fyn 2013
No.3 Championship of the Island Fyn 2010
No.4 Championship of the Island Fyn 2018
No.5 Championship of the Island Fyn 2012
No.7 Championship of the Island Fyn 2011
Acepigeons:
No.1 Acepigeon hens: 013-17-0429 U 2020
No.1 Acepigeon hens Long: 013-17-0462 U 2020
No.1 Acepigeon hens: 013-14-1314 U 2018
No.1 Acepigeon cocks Long: 013-16-0339 A 2018
No.1 Acepigeon hens Long: 013-14-1314 U 2018
No.1 Acepigeon cocks: 013-15-0135 A 2017
No.1 Acepigeon hens: 013-14-1309 U 2017
No.1 Acepigeon hens Long: 013-12-1323 U 2017
No.1 Acepigeon cocks Long: 013-14-1349 A 2016
No.1 Acepigeon hens Long: 013-12-1323 U 2016
No.1 Acepigeon hens Long: 013-12-1323 U 2015
No.1 Acepigeon hens Nom.: 013-12-1323 U 2015
No.1 Acepigeon hens Long: 013-11-0652 U 2014
No.1 Acepigeon hens Long: 013-10-0498 U 2013
No.1 Acepigeon hens: 013-09-0196 U 2011
No.1 Acepigeon hens: 013-08-0077 U 2010
No.2 Acepigeon hens Long: 013-14-1314 U 2019
No.2 Acepigeon hens Long: 013-14-1317 U 2018
No.2 Acepigeon hens: 013-15-0325 U 2017
No.2 Acepigeon hens Long: 013-15-0325 U 2017
No.2 Acepigeon cocks: 013-14-1349 A 2016
No.2 Acepigeon hens Long: 013-14-1082 U 2016
No.2 Acepigeon hens Long: 013-10-0498 U 2015
No.2 Acepigeon hens: 013-11-0652 U 2014
No.2 Acepigeon hens: 013-09-0156 U 2013
No.2 Acepigeon cocks Long: 013-10-0506 A 2013
No.2 Acepigeon hens Long: 013-11-0217 U 2013
No.2 Acepigeon cocks: 013-10-0517 A 2012
No.3 Acepigeon cocks: 013-17-0439 A 2019
No.3 Acepigeon hens Nom.: 013-14-1314 U 2019
No.3 Acepigeon hens Nom.: 013-14-1317 U 2018
No.3 Acepigeon hens: 013-14-1317 U 2017
No.3 Acepigeon hens Nom.: 013-14-1323 U 2017
No.3 Acepigeon cocks: 013-14-1329 A 2016
No.3 Acepigeon hens: 013-12-1323 U 2016
No.3 Acepigeon hens: 013-14-1348 U 2015
No.3 Acepigeon cocks Long: 013-12-1391 A 2015
No.3 Acepigeon cocks Long: 013-09-0171 A 2014
No.3 Acepigeon cocks: 000-12-2116 A 2013
No.3 Acepigeon hens Long: 013-09-0156 U 2013
No.3 Acepigeon hens Long: 013-09-0156 U 2012
No.4 Acepigeon cocks Long: 013-18-0001 A 2020
No.4 Acepigeon hens Long: 013-17-0429 U 2020
No.4 Acepigeon cocks: 013-16-0339 A 2018
No.4 Acepigeon hens: 013-14-1317 U 2018
No.4 Acepigeon hens: 013-12-1323 U 2017
No.4 Acepigeon hens Long: 013-14-1317 U 2017
No.4 Acepigeon cocks: 013-13-1044 A 2015
No.4 Acepigeon hens: 013-12-1323 U 2015
No.4 Acepigeon hens: 013-10-0498 U 2014
No.4 Acepigeon hens Long: 013-08-0414 U 2013
No.4 Acepigeon cocks Long: 013-08-0066 A 2012
No.4 Acepigeon hens Long: 013-10-0498 U 2012
No.4 Acepigeon cocks Long: 013-09-0171 A 2011
No.5 Acepigeon cocks: 013-15-0321 A 2019
No.5 Acepigeon cocks: 013-16-0266 A 2017
No.5 Acepigeon hens Long: 013-14-1348 U 2016
No.5 Acepigeon cocks: 013-10-0506 A 2015
No.5 Acepigeon hens: 013-10-0498 U 2015
No.5 Acepigeon hens Long: 013-12-1358 U 2015
No.5 Acepigeon cocks: 013-10-0506 A 2013
No.5 Acepigeon hens Nom.: 013-11-0652 U 2014
No.5 Acepigeon hens Long: 013-10-0498 U 2014
No.5 Acepigeon hens: 013-10-0498 U 2013
No.5 Acepigeon cocks Long: 013-09-0171 A 2013
No.5 Acepigeon hens: 013-07-0428 U 2010
No.6 Acepigeon hens: 013-14-1323 U 2017
No.6 Acepigeon hens Long: 013-14-1309 U 2017
No.6 Acepigeon hens Long: 013-12-1348 U 2016
No.6 Acepigeon cocks Long: 013-10-0559 A 2012
No.7 Acepigeon hens: 013-14-1314 U 2019
No.7 Acepigeon cocks: 013-15-0321 A 2018
No.7 Acepigeon hens: 013-14-1314 U 2016
No.7 Acepigeon cocks: 013-14-1349 A 2015
No.7 Acepigeon hens: 013-14-1375 U 2015
No.7 Acepigeon cocks: 013-11-0231 A 2014
No.7 Acepigeon hens Long: 013-12-1324 U 2014
No.7 Acepigeon cocks: 013-09-0171 A 2013
No.7 Acepigeon hens: 013-08-0652 U 2013
No.7 Acepigeon hens Long: 013-09-0156 U 2011
No.8 Acepigeon hens: 013-16-0281 U 2020
No.8 Acepigeon hens Long: 013-17-0462 U 2019
No.8 Acepigeon hens: 013-12-1343 U 2015
No.8 Acepigeon cocks Long: 013-10-0506 A 2015
No.8 Acepigeon hens: 013-12-1324 U 2014
No.8 Acepigeon hens Nom.: 013-12-1324 U 2014
No.8 Acepigeon hens: 013-08-0085 U 2013
No.8 Acepigeon hens: 013-10-0498 U 2012
No.8 Acepigeon hens Long: 013-08-0414 U 2012
No.9 Acepigeon hens Long: 013-14-1317 U 2019
No.9 Acepigeon hens: 013-14-1309 U 2018
No.9 Acepigeon hens: 013-14-1082 U 2016
No.9 Acepigeon hens Long: 013-11-0217 U 2016
No.9 Acepigeon hens Long: 013-14-1375 U 2016
No.9 Acepigeon hens: 013-14-1314 U 2015
No.9 Acepigeon hens: 013-12-1323 U 2014
No.9 Acepigeon hens: 013-08-0414 U 2013
No.10 Acepigeon hens: 013-17-0462 U 2020
No.10 Acepigeon hens Long: 013-16-0281 U 2020
No.10 Acepigeon hens: 013-17-0462 U 2019
No.10 Acepigeon hens Nom.: 013-14-1317 U 2019
No.10 Acepigeon hens Long: 013-14-1309 U 2018
No.10 Acepigeon hens Nom.: 013-14-1314 U 2017
No.10 Acepigeon hens Long: 013-12-1358 U 2016
No.10 Acepigeon cocks: 013-14-1365 A 2015
No.10 Acepigeon hens Long: 013-11-0217 U 2015
No.10 Acepigeon hens: 013-08-0414 U 2012
No.10 Acepigeon cocks Long: 013-10-0506 A 2012
No.10 Acepigeon cocks: 013-09-0197 A 2011