2020 was a super season for Team Lemmens!
Throughout the whole season 2020 Team Lemmens achieved a lot of topprizes!
Whether it was on the normal racing-program from the home in Balen or the OLR-competitions all over the world.
Nothing less than 5 times in the Top 10 on the national races in Belgium – superb!
Recently we also got the news that Team Lemmens made it all to the top of:
National Ace Pigeon and Champions of LCB Magazine:
1. + 8. National Ace Of Aces 2020
4. National Ace Of Aces Youngsters (direct SG Steffl)
6. + 7. + 9. + 10. + 12. Ace Long Distance + Marathon
8. Champion Long Distance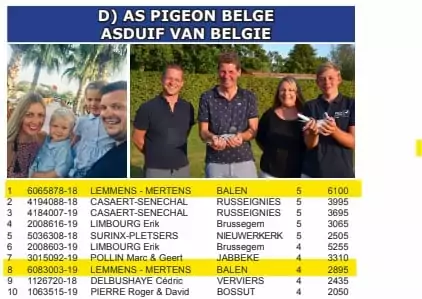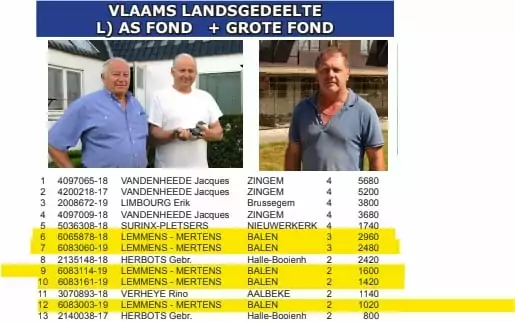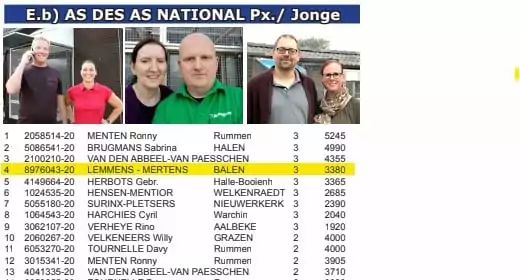 Still the old foundation family runs through the pigeons on the loft.
LEONIE, GUST (son of LEONIE), BETTINI, WILLIAM (son of BETTINI), GAMBLE etc. etc.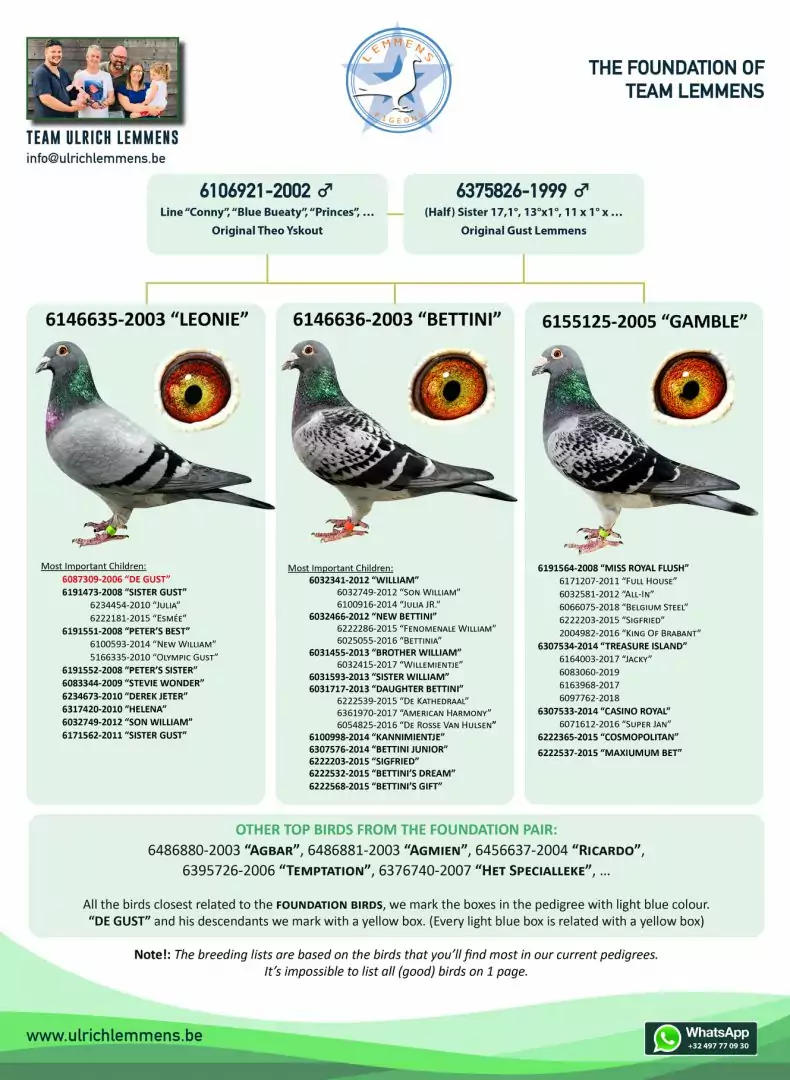 But Lemmens is not afraid of crossing new lines onto the old family – far from not – and we believe that this is one of the reasons why he continues to race in the top.
A very good example from this year is the yearling hen 028 – a direct daughter of BROTHER WILLIAM (one of the absolute best breeders at the moment on the loft) – and the mother is from Francois Sterckx.
Ulrich is fortuned to have his whole family around him with help and support – his parents and his own family – his wife Eef and the children Esmee and Jake.
The foundation family is also successful on many other lofts all over the world – a very good reference comes from one of the best lofts in Belgium at the moment – Brugmans Sabrina!
In 2 of the 4 national young bird races, the first pigeons where directly from the loft of Lemmens and they won 10. and 31. National.
And one of those top youngsters also classified as 3. Provincial Ace Pigeon KBDB Limburg 2020, also winning 36. National Ace KBDB!!
2020 has also been a very good season on the OLR-races. We recommend you to visit the Facebook profile for Ulrich Lemmens Pigeons where Ulrich informs about the achievements of his pigeons in the OLR.
Very good results!
We send our congrats to the whole family Lemmens – Hip Hip!
Keep up the good work and we are sure that we will see you in the very top in 2021! ????